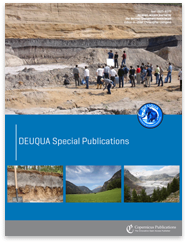 Chief editor: Henrik Rother
The German Quaternary Association (Deutsche Quartärvereinigung, DEUQUA e.V.) is the official union of German-speaking Quaternary scientists. The aim of the association is to support Quaternary science, to present it to the public, to intensify contacts to the applied sciences, and to provide advice to public and political authorities on issues related to Quaternary science. Furthermore, the association supports networking among Quaternary scientists and neighbouring disciplines at home and abroad.
DEUQUA Special Publications (DEUQUASP) publishes field guidebooks and special volumes related to Quaternary research. Volumes are usually organised and managed by guest editors. If you would like to propose a topic for a volume, or you wish to submit a manuscript to DEUQUASP, please first contact the chief editor.
Notice on current restrictions
To show our support for Ukraine and in accordance with current European sanctions, we have introduced a range of measures relevant to our open-access publications process.
All fees for papers from authors (first, corresponding, or contact authors) affiliated to Ukrainian institutions are automatically waived, regardless of if these papers are co-authored by scientists affiliated to Russian and/or Belarusian institutions. The only exception to the waiver for Ukrainian authors will be if the corresponding or contact authors are from a Russian and/or Belarusian institution, in that case the APCs are not waived.
Due to restrictions for authors from Russian and Belarusian institutions that are necessary to comply with European sanctions, we recommend any authors from institutions in these countries to contact us on editorial@copernicus.org for more information.